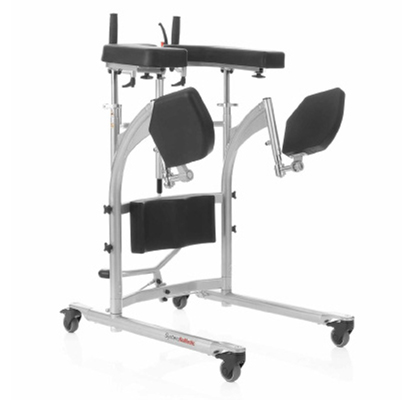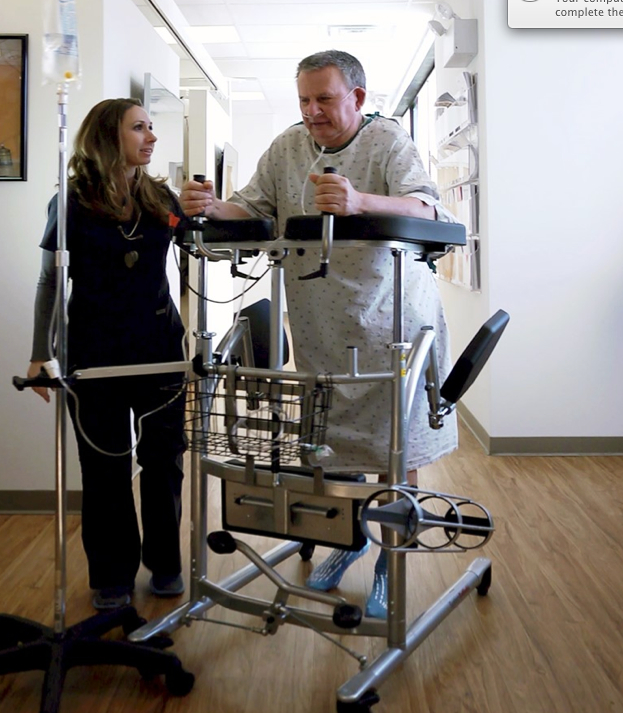 A unique solution for early mobilization
In cooperation with a leading American hospital, Handicare has developed a unique, ergonomically designed walking aid for early mobilization, specifically for cardio-thoracic and abdominal post surgical users.  The RoWalker is the gold standard of early patient mobility devices and is now being used in ICU's, Med Surg, Ortho, Rehab, and many other departments in leading hospitals across the country.  The RoWalker features integration for oxygen, drain bags and IV poles, and monitors to enable safe ambulation with fewer staff.  Most notable are the seat flaps that allow resting and fall prevention.
Safe and secure walking and standing training
 RoWalker400 offers safe and secure support during walking and standing training with users with impaired leg strenght and balance. RoWalker400 has a stable construction and can manage users weighing up to 180 kg/400 lbs.
Seat pads for support, comfortable resting
, and fall prevention RoWalker400 offers a unique and very practical feature; the built in split seat pads which provide for comfortable resting as well as for extra security for users with weak legs. To facilitate the transfer into and out from the walker, the seat pads can be swung away and folded up to the sides of the walker.
Adjustable settings for individual adaptation
 Several adjustable settings ensure the perfect fit for every user. The height of the soft and comfortable armrests is conveniently adjusted using the lever easily accessible next to one of the handlebars. The angle of the armrests and the handlebars is individually adjustable to enable optimal comfort and ergonomics. Locking handles secure the appropriate height and angle of the armrests. The base-width can be adjusted using the foot pedal on the caregiver's side of the walker.
Small and convenient, easy to manoeuvre
 RoWalker400 is relatively small and convenient and very easy to manoeuvre. Four easy rolling castors provide for smooth movement on any flat floors. The rear castors are equipped with directional wheel locks facilitating straight walking. The front castors can be locked to secure a non-moving position of the walker, e.g. during sit-to-stand and when the user is resting sitting down.
Ergonomic, safe and secure
Provides excellent support for walking and standing training
For early mobilization, specifically for cardio-thoracic and abdominal post surgical users
Unique design with built in seat pads for comfortable resting as well as for security during walking
Stepless adjustment of height
Stepless adjustment of inner width between the armrests and distance between the handle bars
Soft knee pads provide maximum support
Adjustable base width enables placing of RoWalker400 close to wheelchairs
Small and convenient, easy to maneuver
Directional wheel locks on the rear castors facilitate straight walking
Locks on the front castors
Hooks for portable oxygen system
Accessories:
Oxygen Tank Holders (Left or Right)
IV Pole Holder
Basket for Monitor, Portable Ventilator, or other equipment
Ambulation Belts for Support, from Small to XXL sizes
Download the RoWalker Brochure below:

Here is a video submitted by a happy RoWalker customer!
Watch the inservice overview video for RoWalker:
Contact SPH Medical to learn more about the RoWalker and how it can help mobilize your patients!
email: info@sphmedical.com
Call: 949-887-2225
View the Facilitator Guide to implementing a Nurse-Driven Early Mobility Protocol published by AHRQ.
Recent Portfolios
---